FUN DIVING THE GILI ISLANDS
The Gili Islands are not only a vision of paradise but also one of the top diving destinations in Indonesia. Situated in the famous coral triangle, with more than 20 dive sites and a plenty of diverse underwater environments. Located off the northwest coast of Lombok Gili Air, Gili Meno and Gili Trawangan are surely a diver's heaven where undoubtedly turtles are starring the show. Both green and hawksbill turtles are abundant.
The dive sites of the Gili Islands have a great marine diversity with sought after critters like ornate ghost pipe fish, frogfish and nudibranchs. But also reef sharks are frequently spotted as well as octopus along with tuna, barracuda, trevally and occasional passing eagle rays. Among the hunters you will find colourful tropical reef dwellers such as sweetlips, pufferfish, angelfish, batfish, butterflyfish, lionfish, scorpionfish and schooling snappers, fusiliers and damsels. Oh and did we mention the turtles?
Overall, the Gilis offer great diving all year round with the dry season running from May to October and the rainy season from November to April, but it doesn't really rain that much and the diving isn't affected by the rain.
29
degrees average water temperature
10
minutes average boat ride
20
meters minimum visibility
Fun dive the Gilis with Divine
Daily dive trips with Divine Divers
Divine Divers is located on central Gili Meno. This gives us easy access to all of the Gili dive sites within a 10 minutes boat ride, with many of the most famous sites right in front of our doorstep. Our daily fun dive trips are open for all levels of certified divers. They are guided underwater exploration tours and you will get to see the best of the dive sites with an experienced divemaster. Due to prevailing currents, most Gili dive sites are best seen on a drift dive from a boat.
Dive sites are chosen daily for the next day. Our boat leave three times a day at 08:00, 11:00 and 14:00. Throughout the week, we also schedule night dives. By leaving half an hour earlier than everybody else, we ensure that we have the beautiful dive sites to ourselves because we will resurface once the other dive boats turn up. Our boats are traditional Indonesian outrigger boats with a spacious sundeck. After your dive, you can dry off, sunbathe and enjoy the spectacular view.
Once back in the dive center, you will log your dive together with your group and your dive guide to not forget the amazing fish you have seen.
If you haven't dived in a while, we recommend you to start your diving holiday with a quick refresher. Oh, and we of course also offer night dives. They are scheduled regularly throughout the week.
Fun dives for certified divers
all certified divers, 1 guided dive including equipment and boat ride.
Packages available:
5 dive package, IDR
10 dive package, IDR
ask for more options
Add-ons:
Underwater camera rental
Nitrox
Professional underwater shooting
Private guide
more info
Every time you dive, you hope you'll see something new — some new species. Sometimes the ocean gives you a gift, sometimes it doesn't.
– James Cameron.
Night Dives
A diving day does not necessarily end when the sun goes down. On a night dive you'll have the chance to meet the incredible marine life that only comes out when it is dark. We offer regular night dives around the Gili Islands. Just keep an eye on the sign for the dive sites of the day or simply let us know if you'd like to go night diving. We have Meno Wall, one of the best Gili night dive spots in front of our beach and can jump into the water at any given time.
Night diving might seem scary at first but it is one of those things that you'll most likely end up loving. Night dives are open for all certified divers. If you have never done a night dive before we recommend you to do an Adventure Night Dive. For this dive, you will have an instructor by your side who will teach you the knowledge and techniques for night diving. If you are a seasoned (night) diver you can simply join a group or even try out fluo night diving using UV light.
Night diving on Gili Meno
all certified divers, 1 guided night dive including equipment, torch and boat ride.
more info
Dear ocean. Thank you for making us feel tiny, humble, inspired, and salty…all at once
–  Anonymous.
Fluo Night Diving
Fluorescence night diving is also referred to as UV diving,  blue light diving, fluo diving or glow diving. Divers are equipped with a yellow mask filter and a special light with which they conduct the dive. Some people say that fluo diving is like being in the movie "Avatar". Others describe the experience as diving in a psychedelic rave party. We could bore you know with a chemical explanation but bottom line is: Fluo night diving is a whole new experience. The underwater world seems to glow but with colors unlike those seen by the naked eye in daylight or at night with a normal dive torch. Marine life that appears dull and gray during the day might look like a riot of colors at night. A pale piece of coral is now fire red and a glowing beauty of form and color. Convinced? Then join us for a once in a lifetime experience.
Fluo night diving on Gili Meno
all certified divers with night diving experience, 1 guided blue light night dive including equipment, UV torch and boat ride.
more info
It was the possibility of darkness that made the day seem so bright.
– Steven King.
Refresher
Once all of a sudden, a year has passed and even though you've planned the entire time to go diving, it just didn't happen. Knowledge can get rusty and if you haven't dived in a while, we strongly recommend to reactivate your skills with a refresher program. A quick review of the dive theory, followed by some quality time in our pool and you are ready again for the open ocean. You will find yourself more relaxed and comfortable to back roll into the sea on the subsequent fun dive. In addition, your air consumption will be better after the pool session and you will enjoy the dive a lot more than without.  The scuba skills update is available for all certified divers. The price for the refresher includes all 3 parts: theory, pool and open water dive.
all certified divers, 1/2 day, 1 pool dive, 1 ocean dive
more info
Most of the problems in scuba diving come from ourselves.
– Jim Crockett.
The dive sites of the Gili Islands offer something for everyone. You can experience gentle to strong drift dives, walls, wrecks and pinnacles. Moreover, there are also some beautiful muck dive sites where you can expect to have your nose in the sand looking for tiny and extraordinary creatures. The Gilis Islands also feature the largest biorock program (artificial reefs) in the world. Hard and soft corals can be found at different depths. In addition, we have the perfect training grounds for beginners as well as for professional training. Popular dive sites include Shark Point, Sunset Reef (also known as Manta Point), Deep Turbo, Meno Wall and the very instagramable Bask Nest on Meno Slope. Turtles, rays, morays, eels and also sharks can be frequently seen as well as schooling fish and critters. In addition, Lombok, which offers world-class muck-diving is only 15 to 20 minutes away. Conditions vary depending on the season but in general you can expect 20 meters visibility and 28 to 29 degrees water temperature.
You will find descriptions of the 20+ dive sites of the Gilis below. Each of the sites has its own distinct character, topography and marine life. Many of the sites are perfect for beginners although there are also great opportunities for advanced and pro divers to challenge themselves.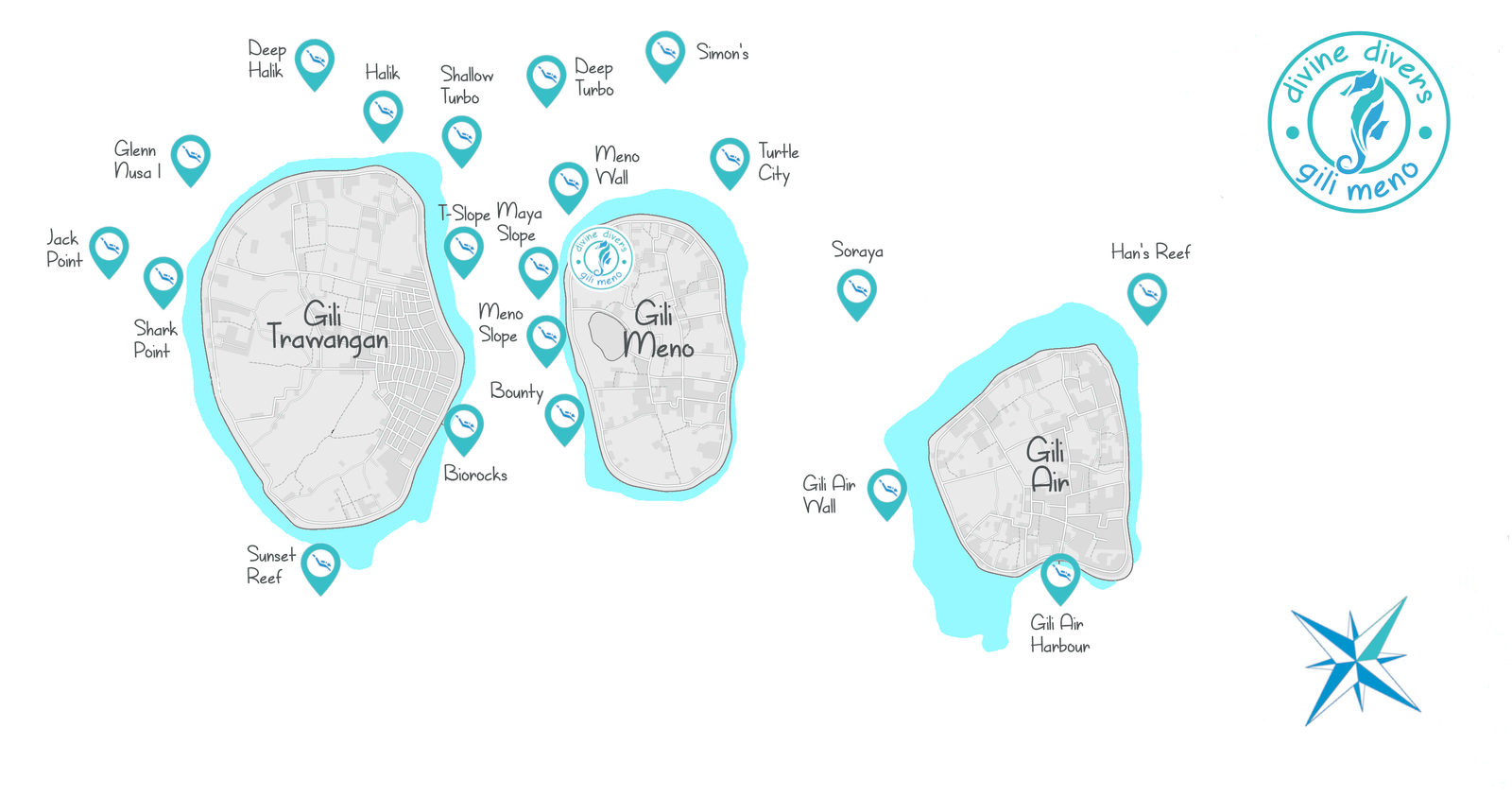 Almost guaranteed
green and hawksbill turtles, cuttlefish, clownfish, lionfish, trevally, whitetip reef sharks
With a bit of luck
nudibranchs, pygmy seahorses, ghost pipefish, mating mandarin fish, eagle rays, blacktip reef sharks
With a lot (!!) of luck
mantas, whale sharks, blue ringed octopus
Pick your favourite dive site
Sunset Reef
This is a beautiful, large fringing reef on the south end of Gili Trawangan. Expect a beautiful coral garden on a gentle slope that mouths into a sandy bottom covered with coral blocks. Keep your eyes open for turtles, cuttlefish, mantis shrimp, the occasional blacktip or whitetip reefshark. With just a little bit of luck it is also not uncommon to be pleasantly surprised by a passing manta, eagle or mobula rays. Altogether a rewarding and easy dive.
Meno Wall
Meno Wall is literally located on our doorstep so we can proudly call it our house reef. The dive site basically consists of two main walls ranging from 5m to 20m with a sloping reef on either side. The northern slope may not win a prize for the best coral but that might just be because of the ridiculous amounts of turtles that graze there. The southern slope has of a sandy bottom filled with many colorful, coral covered bommies.
Meno Slope
Meno Slope is basically the extension of our Divine Divers house reef west of Gili Meno. It offers many coral gardens teaming with marine life. Again, apart from the turtles chilling out here it's also a Valhalla for all of you macro freaks out there. Apart from all that, Meno Slope is also home to the famous Bask Nest, also known as the Gili Meno Statues. The 48 humanlike statues by Jason DeCaires Taylor are arranged to represent the circle of life.
Deep Halik
As the name already kind of gives away, this is the deep part of Halik. It consists of a sandy bottom at around 30m, interspersed with a series of beautiful flat, coral covered ridges. A fantastic place for thrill seekers who like a 'blue' descent where you never know what you might bump into. As it is deep, nitrox is obviously a benefit to give you a little bit more time to check the deeper ridges before you make your way back to the main reef.
Biorocks
The Gili's first artificial reef! Around 10 years ago the Biorock reef restoration project created this artificial reef structure and they have been busy regenerating coral reefs ever since. Already their success is obvious as the structures are now home to a sensational diversity in coral and reef dwellers alike. It's located on the eastern side of Gili T and consists of a sandy bottom on which the structures were placed.
Han's Reef
One of our personal favorite dive sites. Located North-East of Gili Air it offers everything a diver could ever wish for – experienced or novice. Blue spotted stingrays, scorpion leaf fish, ghostpipefish, moray eels and sometimes even the elusive frogfish! You can usually even find one of the local resident green turtles using a barrel sponge as their own private bed. Apart from the amazing marine life on offer the topography is diverse and beautiful.
Teluk Nara
This is one for all of you critter-lovers out there. You'll love this dive site! It's located in the little natural harbor of Teluk Nara where you can spend many bubbles looking for frogfish, pipefish, nudibranchs, octopus and the like. Visibilty can be a bit limited but hey, that's why they call it a Muck-dive. And who cares, as you'll have your noses glued to the bottom to find all the hidden gems this place has to offer!
Trawangan Slope
Fancy a leisurely drift dive along Gili T? Trawangan Slope is just the place to do that. On the slope itself you can enjoy the company of some of the local turtles chilling or grazing on the reef. Deeper down on the white sandy bottom you may see some blue spotted stingrays gliding along and, when the current allows it, check out the different bommies and coral formations deeper down for some of the more elusive reef dwellers.
Jack Point
An absolute must for the adrenaline junkies amongst you! If diving Shark point isn't exciting enough for you here will be your additional thrill. You basically start your dive with a descent into the blue, directly onto the deeper ridges that lead to Shark point. On these ridges you will not only be accompanied by a large school of jackfish but you also have an excellent chance to find white tip reef sharks. You'll finish the dive on Shark Point.
Gili Air Wall
Air Wall is stretched out along the western side of Gili Air and is an absolute must if you like drop offs. The drop off itself is covered with a carpet of mainly yellow soft corals. When the current allows you'll have plenty of time to check out the many nooks and crannies of the wall to find an enormous selection of small marine animals hiding in there. Before and after the wall you're almost guaranteed to bump into some of the resident turtles.
Turtle City
On the north eastern tip of our beautiful little home island Gili Meno, you will find a lovely pinnacle where we can just about guarantee you an encounter with some of the largest turtles around the Gili's – both green and hawksbill turtles can be found here and often in large numbers. If this is not enough, you'll also find many different unicorn fish, batfish and nudibranchs here as well as a huge diversity of shrimps, clownfish and lionfish. Altogether a beautiful leisurely dive.
Soraya
This little gem, also known as Mirko's reef after a good friend of ours, is situated halfway between Gili Air and Gili Meno. An absolute must for those of you who like cruising along a beautiful rich coral reef, famous for its massive table corals. As you make your way over the series of pristine ridges of which this reef consists, you will basically forget to be on the look out for other marine life swimming by as the corals alone will captivate you.
Shallow Turbo
Another great dive on the north east corner of Gili T. This site, unlike its deeper sister reef Deep Turbo, is accessible to all levels of divers while still offering a huge diversity of both marine life and coral. Keep your eyes peeled for frogfish, octopus and scorpionfish, while doing so you might find some company in curious batfish. Don't get too caught up and have your nose glued to the bommies.  You might miss the occasionally cruising whitetip reefshark.
Gili Air Harbor
This is another macro highlight right in the middle of Gili Air Harbor. Here you have a great opportunity to find a great variety of the smaller marine critters that make the macro heart grow fonder! Frogfish, ghostpipefish, seahorses to name but a few. The highlight is best found during a late afternoon or early morning dive, the elusive mandarin fish! Yes, they are there! An absolute must for macro lovers!
Maya Slope
Wedged in between Meno Wall and Meno Slope we have another wonderful little corner of our Divine Divers backyard. Here we have a gentle slope down to a white sandy bottom covered with a great number of beautiful coral-covered bommies. A great place to spot cuttlefish, one of the most amazing little creatures you'll ever encounter underwater or above. For those of you with keen eyes, there are scorpion leaf fish to be found!
Bounty Wreck
The Bounty is one of two freely accessible wrecks on the Gili's. Once a jetty, it is now a popular dive site. It's been colonized by a huge variety of soft and hard corals alike which attract our usual reef dwellers like sweetlips, snappers, batfish and many more. Macro lovers will definitely not get bored here either. We usually start, or end the dive, depending on the current, on the famous Bask Nest, also known as the Gili Meno Statues.
Deep Turbo
Attention to all experienced divers who like it deep and beautiful. Deep Turbo is a magnificent dive site with superb coral formations and sea fans that you will absolutely love. The topography is impressive – imagine seamounts covered in healthy corals on a white sandy bottom. There are also several overhangs and small caves where many creatures live. Many of the gorgonians are home to the elite pygmy seahorse. Nitrox recommended.
Simon's
A must see for you experienced divers out there. A collection of stunning healthy corals, bommies, pinnacles and canyons spread out on a white sandy bottom. As the shallowest part is at around 18m this is an excellent chance strap on a nitrox tank to allow you some extra time at depth to check out all that's on offer here. Cruising sharks, huge green turtles, rays, large gorgonians hide the tiny pygmee seahorses and nudibranchs.
Shark Point
A site not to be missed. As the name suggests, we often find whitetip and blacktip reef sharks here. But Shark Point doesn't need sharks to be an amazing dive site. The site features beautiful ridges with stunning hard corals parallel to the main reef. These ridges are full of blue line snappers and schooling jack fish. The main reef is home to supersized turtles, octopus, the picturesque clown triggerfish and even leafy scorpion fish.
Halik
Halik stretches out along the north of Gili T. Being such a large dive site it is perfect for a nice leisurely drift dive. The reeftop itself is considered to house some of the best, most vibrant corals the Gili's have on offer. Green and hawksbill turtles usually hang out here, cuttlefish, octopus, different species of lobsters, moray eels and lionfish. Around full moon you'll encounter a large group of bumphead parrotfish . A stunning sight!
Glenn Nusa Wreck
Here we have the Gili's first proper shipwreck! The Glenn Nusa was a tugboat which was purchased, properly stripped and cleaned and sunk in 2016. It lies upright at a depth of 28m on the sandy bottom between Halik and Shark point. Efforts are also being made to promote coral growth on the wreck. However, it has already collected a wide variety of coral and marine life and makes for an excellent wreck dive and even a wreck speciality.
FAQ – for Things left Unanswered
Is a diving certificate valid everywhere?
Yes! Diving certificates can be used around the world. Just make sure you bring your (digital) certification card with you. Some certifications are stored online (SSI and PADI) so we can access a database and look them up.  But if you are CMAS or NAUI certified, we have no chance of finding you in the world wide web. Therefore, it is really important that you bring proof of certification with you.
Is there an age limit for scuba diving?
The minimum age to get a diving certification is 10 years. With that Open Water certification, the depth for 10- and 11-year-olds is restricted to 12 meters and they need to be accompanied accordingly.
As for the upper limit: There is none! If you are not sure if you are still fit to dive (based on your age) it makes sense to consult a doctor before signing up for fun dives. However, there are divers that are 80 years of age who are in a better physical condition than a 40-year-old. So being healthy isn't necessarily an age thing.
Do I need a medical certificate to go fun diving?
In some areas, a medical examination is mandatory for all divers by law. In other places all divers (certified or not) have to fill in a medical questionnaire before engaging in any diving activities. This is not the case in Indonesia and hence also not on the Gili Islands. You are required to fill in a medical questionnaire only if you are signing up for a course. The medical questionnaire covers your state of health and asks about conditions, illness or medications that could be a problem when diving. If you are perfectly fit and healthy, you can sign the questionnaire and go diving. If the questionnaire highlights an issue, or if have to answer one of the questions with a "yes", you have to consult a doctor before diving.
For fun diving this is not necessary though. You won't have to fill in a medical questionnaire but you should still be healthy. If in doubt, it is always better to quickly check with a medical expert.
Diving before flying – what do I have to keep in mind?
The longer the time interval between diving and flying, the better. In general, one should not dive at least 18 – 24 hours before flying. Please also read the conditions of your travel insurance carefully. Some require a minimum time after diving and before flying.
Which other safety rules should I keep in mind?
Safety is the top priority when diving, here are some of the most important rules:
Never dive alone
Dive only if you feel fit
Don't consumption of alcohol, drugs, or certain medications before a dive
Check your equipment and conduct a buddy check with your dive partner before the dive
Before you dive, make sure you know the special conditions of the dive site, such as the location of the reef and current flow conditions. Just in case you lose your guide…
Follow the instructions of the dive instructors or dive guides on board and in the water
Start equalization in a timely manner and equalize your airspaces regularly
Avoid decompression dives
Respect the underwater world and its inhabitants
Ascend slowly and before reaching the surface, make a safety stop
Drink plenty of non alcoholic liquids to avoid dehydration
Do you offer house reef dives?
On some occasions we will just walk into the sea to conduct a housereef dive.  Due to prevailing currents, our divers are still accompanied by the boat. Not every exit point is suitable to simply walk back to the beach and it is easier and safer to get back on the boat. All housereef dives are guided. Solitary diving in buddy teams is not possible with Divine Divers on the Gili Islands. If you'd like to do your own thing, we can simply send a guide to accompany you. This is for your own safety. Currents can be very strong and we try to avoid having to pick you up half way to Bali. Better safe than sorry…
What equipment is included on the fun dives?
BCD/Jacket (for controlling your buoyancy underwater)
Regulator with a spare second stage (octopus), pressure gauge and inflator hose
Wetsuit (3mm shorty)
Air tank
Lead weights and weight belt
Fins, mask and snorkel (we do recommend to get your own mask but you don't have to)
Is it safe to use rental gear at Divine Divers?
Renting equipment from a dive shop is a great way to save money. Our equipment is regularly maintained and exchanged as soon as it is in a condition that we don't feel comfortable with. Masks and mouth pieces on snorkels and regulators are disinfected after every use. All equipment is washed and rinsed after every dive and then hung to dry. So yes, it is safe to rent dive gear at Divine Divers.
What is Nitrox?
Enriched Air Nitrox (also called EAN or EANx) is a gas mix of nitrogen and oxygen. The mixture has a higher percentage of oxygen than normal air (usually 32% of oxygen instead of 21%). When diving with Nitrox, the accumulation of nitrogen in the body tissues is slowed down. Consequently, the no decompression time at intermediate depths in between 20 and 30 meters is extended. Nitrox tanks are usually highlighted with yellow-green colour stickers and labelled "EAN" or "NITROX". Before the dive, every diver checks the oxygen content in the tank with the help of an O2 analyser. Let us know if you'd like to dive on Nitrox. Some dive sites such as Deep Turbo, Simon's, Soraya, the Glenn Nusa and Deep Shark Point are a lot better with it than without because you can enjoy the dive site a lot longer before having to shallow up to avoid a decompression dive. Nitrox fillings are offered at a small surcharge for qualified divers.
What's a drift dive?
The general rule in diving is: Always start the dive against the current and return to the entry point with the current. On the Gilis we mainly conduct drift dives since the current is often too strong to go against it. With a drift dive, the divers are dropped so that they can drift along the reef and then be picked up by the boat at the end of the dive. If you'd like to receive proper drift dive training, we highly recommend a Drift Specialty Course. It's fun and you learn some more handy skills for current and drift dives in the future.
Are night dives difficult/suitable for beginners?
Most people are a little nervous before their first night dive. Those who have tried night diving are usually totally thrilled. At night, a completely different underwater world is waiting for you. Many creatures are active only in the evening or behave differently than in the daytime. If you have never done a night dive before, we recommend you to do an Adventure Night Dive to learn the bits and bobs of safe night diving.  
You think you have seen it all? Then try a blue light night dive and we promise you that you'll have the sensation of WOW again!
Can I dive with contact lenses?
Yes, diving with contact lenses is possible. However, soft contact lenses are more suitable for diving than hard contact lenses. Alternatively, and if you'd like to pick up diving on a regular base, a diving mask with optical glasses is also not a bad idea.
What is the difference between steel and aluminium tanks?
Diving tanks are available in steel or aluminium and in different sizes. If you dive in a European lake the heavier steel tanks are mostly used. In salt water aluminium makes more sense because the material doesn't rust as fast. Divine Divers Gili Meno uses 12 litre aluminium tanks.
How deep is deep?
When people talk about recreational diving limits, they tend to consider depths first and foremost. Most courses have clearly specified training depth limits:
At the open water diver level (or equivalent) the depth limit is 18 m
At the advanced open water level the depth limit is 30 m
With additional deep-diver training, many agencies set a depth limit of recreational diving at 40 m
What if I see a shark?
YAYY! Sharks are amazing marine animals. Encounters with these graceful creatures are both rare and highly sought after by divers around the world. Despite common believe which is unfortunately highly influenced by Hollywood, sharks are not mindless killing machines. Attacks on divers are very rare. Mostly, sharks will swim away as fast as they can once you as a diver approach. Here on the Gilis, you may get to see a sleeping white tip reef shark underneath a coral block for an extended period of time. Sharks can often be found at Shark Point and Sunset Reef.
Why should I dive the Gili Islands?
White sandy beaches, crystal clear and warm waters with temperatures in between 28 and 29 degrees, the reef on your doorstep and a great lifestyle – does this sound like paradise to you? The Gili Islands are a postcard image of paradise and known as the turtle capital in the world – rightfully so, because both green and hawksbill turtles are abundant. Reef sharks are also frequently spotted and there is a broad range of marine life to be met on all dives. Thanks to Divine Diver's central location on Gili Meno, the dive sites are hardly more than a 10 to 15-minute boat ride away and diving is great all year round. The dry season is running from May to October and the rainy season from November to April. Rainy season sounds more extreme than it actually is because it hardly ever rains an entire day and the diving isn't really affected by it.
How long will my certification last?
In general, you are certified for life and there is no expiry date. However, it's highly recommended that you keep in practice. If you haven't dived in a while, it is wise to refresh your skills with a Refresher Course. Continuing your scuba education is also a great way to keep your scuba skills up to date.
Who should do a Refresher Course?
When you received your last certification card, you were certified for life. In theory you could just go to a dive center, rent some tanks and go for a shore dive. Despite the fact that rental gear and non-guided shore diving isn't offered on the Gilis, this is also not a smart idea. If you have not dived in a long time long your skills will have gotten rusty. It is the best course of action to take a refresher lesson. According to some dive organizations, divers who have not dived in six months needs to take a ReActivate (PADI) or Scuba Skills Update (SSI) course.
We at Divine Divers Gili Meno believe that those statements are a little too broad. We will first look at your dive experience, your comfort level and the time out of water. Only after an initial evaluation, we will recommend you to enrol into a refresher course or not.
As a general guideline: we recommend refresher training after 12 months of not diving. However, we also believe that very experienced divers who have not been diving in a while are usually their own best judge if they need a formal course to regain their scuba skills or not.
Do I need a travel health insurance or special dive insurance to dive?
Our students and discover divers are covered in the insurance plans of our instructors. However, fun divers are not. A diving accident insurance is optional but recommended. As in every sport, there are certain risks associated with diving. In case of a diving accident, not all (but many) insurance companies cover the costs of a decompression chamber treatment. It makes sense to check with your insurance company if you are covered in the unlikely event of a dive accident. If you are not, we recommend an insurance policy by DAN, Aquamed or DiveAssure. There are also short term plans available for one week or even one day. Talk to us if you are interested. We will gladly help you!
Can I dive with a flu or cold?
To dive with a flu or cold is not recommended. When you are ill the upper respiratory system swells, becomes congested with mucus and often the eustachian tubes and sinuses become blocked. Ears, nose, and lungs have to work properly, otherwise, it is not safe to dive.
What's included in a boat dive?
Our fun dives around the Gili Islands are guided, all-inclusive underwater explorations tours conducted from a traditional outrigger boat. Before the dive, you will receive a briefing which covers the layout and procedures on the boat, the type of entry and exit, the length of the boat trip, the dive site, what we expect to see and other aspects. We dive in small groups with no more than four divers per guide. The boat trip, guiding fee, equipment (with exception of the dive computer) and the dive itself is included in the dive price. Should the tide be very low, we will transfer you to the dive boat with a small shuttle boat. This shuttle service if of course also included in the overall price. Not only will be assemble your dive equipment before your dive, but we will also wash and store it for you after your dive. The only thing we will ask you to do is to take your dive gear (excluding the tank) off the boat and hand it over to our dive center crew after the dive.  Since the distances from Gili Meno are short, we return to the dive center after every dive.
Please bring a towel and something to drink and a good mood.
Do you offer two tank dives?
On requested, we offer two tank dives to the muck dive sites at Teluk Nara in Lombok. Two tank means that we don't come back to the dive center in between dives. We will take two tanks per diver and we will do the surface interval on the boat. The boat will return to the dive center after the second dive.
Do you offer deco dives?
In short: No, we don't.
A dive that goes beyond non decompression limits is called a decompression or deco dive. Decompression diving is when a diver is required to make one or more stops during their ascent to give their body time to safely release the nitrogen that dissolved into their tissues during the dive. In general, recreational scuba diving is non-decompression diving and the "normal" diver is not certified to conduct deco dives. That is rather something for tech divers and requires special training (and/or equipment)
What kind of wetsuit is recommended?
In water the body cools much faster than on land, so basically: better to wear more, than to freeze in the water. The colder the water, the thicker the neoprene suit should be. The values given here are influenced by personal perception, duration of stay in water and air temperature. Ultimately, every diver has to decide which suit is right for him. Many of our guides dive with no wetsuit at all, others dive with a 5mm long suit. We offer 3 mm shorties to all our divers. If you'd prefer something long or thicker, you will have to bring your own wetsuit with you.
What does DIN and INT mean?
DIN and INT are two different types of valve systems.
INT: International, yoke valve connector – this is the system mainly used on the Gilis
DIN: German – the connection of the first stage is screwed into the cylinder thread – it is widespread since it is the better of the two systems (ouch, this hurts to admit) but hasn't quite made it to Indonesia yet
If you bring your own regulator, you don't have to worry. We can cater for both types of valve systems and also have adaptors for rent as well (free of charge).
My partner does not dive, can he/she accompany me on the boat trip or go snorkeling?
Non-divers are most welcome to join a boat trip if the conditions allow and the boat is not too full. However, snorkelling in general is not possible from the dive boat. Since most of our dives are drift dives, the boat needs to follow the divers to ensure their safety. The risk of not being able to look after both snorkelers and divers is too great so we kindly ask for understanding. We gladly refer snorkelers to the local snorkel operators.
What is muck diving?
Diving in rather murky, sandy or muddy waters – often near the shore or in a harbour – is referred to as muck diving. You're unlikely to see corals, but these dives are a mecca for photographers and lovers of rare and fascinating sea creatures (for example hairy frogfish or blue-ring octopuses). Indonaesia offers world class muck diving and Gili Air Harbour and Teluk Nara a great muck dive sites.
Can I dive while pregnant?
No, as soon as you are aware of your pregnancy, diving is off the agenda. The possible risks to the unborn child are unresearched and unknown.
Can I dive when I am menstruating?
Yes, if you feel comfortable and do not take any serious pain medication, diving during your period is no problem. Sharks are not lured in by human blood, they are only attracted to fish blood. Hence, it is totally safe to go diving.
I am an Open Water Diver (OWD), can I join all dive trips?
There are only a few dive sites around the Gili Islands that are not suitable for Open Water Divers. The general reason for this is that the reef top or average diving depth is deeper than 18 meters. Those dive sites are: Deep Turbo, Deep Halik, Jack Point, Glenn Nusa Wreck and Simon's. You'd still like to go? You can deepen and extend your knowledge onsite with so-called specialties or in the Advanced Course.
I am a Scuba Diver, can I join all dive trips?
Scuba Divers are certified to dive to a maximum depth of 12 metres and only under the supervision of a Divemaster, Assistant Instructor or Instructor. This may lead (in some cases) to limitations in the selection of dive sites. However, you can take an additional course to get an Open Water certificate or simply join a course dive that goes no deeper than 12 meters.
Is there a manta point on the Gili Islands?
There is a lovely dive site that some dive shops call Manta Point. This is not for the great abundance of manta rays and often confuses people who expect to see the gentle giants there. We call the dive site Sunset Reef, because of the beautiful sunsets that can be observed from there. It is located south of Gili Tranwangan.
Why should I choose Divine Divers on Gili Meno for diving?
We love what we do and we do it well! We have been in the diving game for over 10 years as Divine Divers on Gili Meno but our passion for diving didn't start there. During our long careers in the diving, we have seen a lot and dived all over the world. Sometimes you come to dive centers that just have the little extra. A place you enter and you feel instantly at home. Being surrounded by likeminded people in a chill yet professional atmosphere. This is exactly what we had in mind when setting up Divine Divers.
Apart from that we are located in paradise and at the most beautiful spot on Gili Meno – sunset beach. Our groups are small and our instructors hand chosen for their personality and excellent teaching records. Safety is our primary concern; our equipment is in excellent order and of course regularly maintained. We are committed to offering first-class service and superior quality dive courses.