The magical underwater world of the Gilis offers something for everyone but turtles are starring the show here without a doubt!
The dive sites of the Gili Islands offer something for everyone. You can experience gentle to strong drift dives, walls, wrecks and pinnacles. Moreover, there are also some beautiful muck dive sites where you can expect to have your nose in the sand looking for tiny and extraordinary creatures.
The Gilis Islands also feature the largest biorock program (artificial reefs) in the world. Hard and soft corals can be found at different depths. In addition, we have the perfect training grounds for beginners as well as for professional training. Popular dive sites include Shark Point, Sunset Reef (also known as Manta Point), Deep Turbo, Meno Wall and the very instagramable Bask Nest on Meno Slope. Turtles, rays, morays, eels and also sharks can be frequently seen as well as schooling fish and critters. In addition, Lombok, which offers world-class muck-diving is only 15 to 20 minutes away. Conditions vary depending on the season but in general you can expect 20 meters visibility and 28 to 29 degrees water temperature.
You will find descriptions of the 20+ dive sites of the Gilis below. Each of the sites has its own distinct character, topography and marine life. Many of the sites are perfect for beginners although there are also great opportunities for advanced and pro divers to challenge themselves.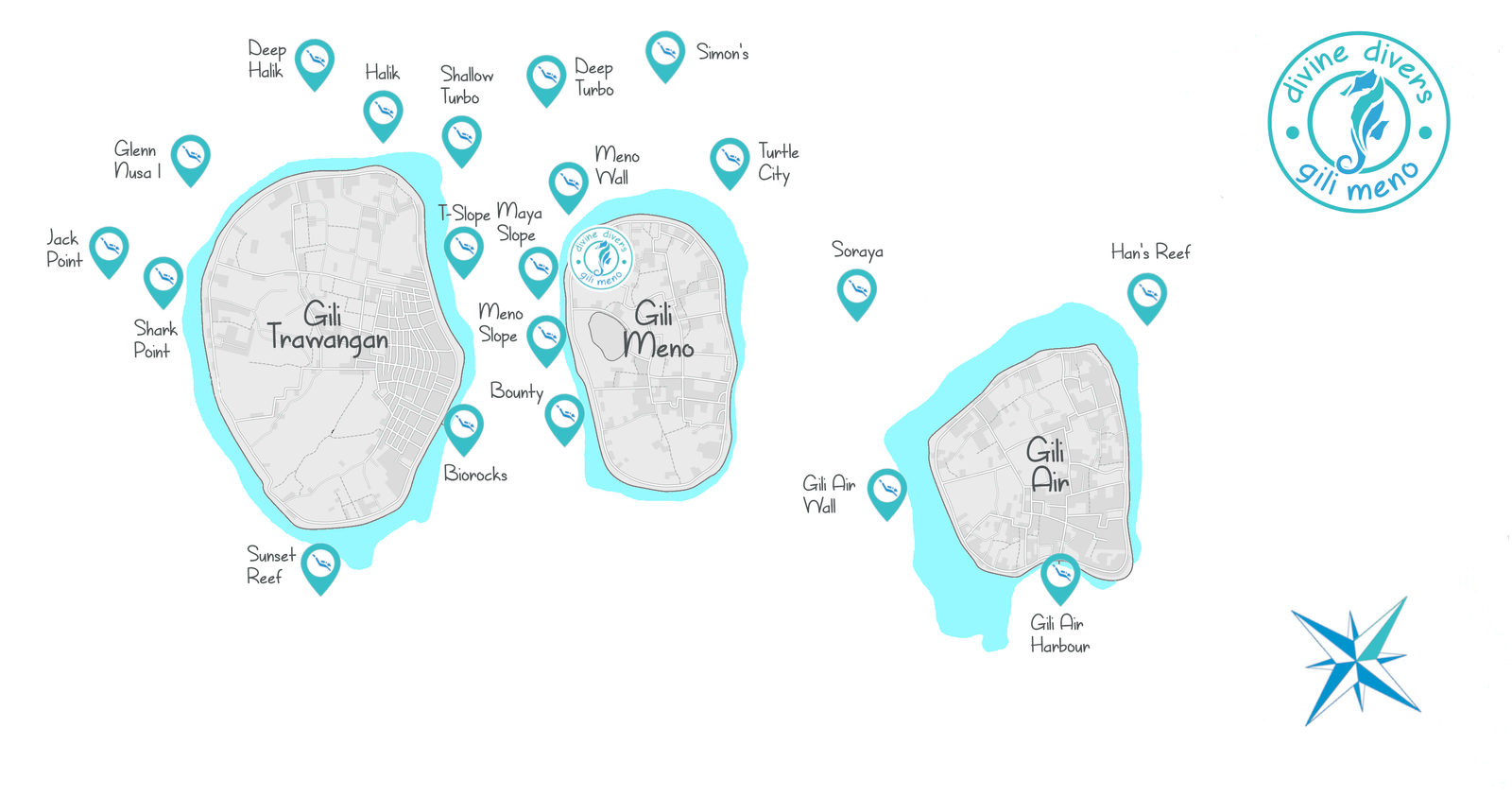 green and hawksbill turtles, cuttlefish, clownfish, lionfish, trevally, whitetip reef sharks
nudibranchs, pygmy seahorses, ghost pipefish, mating mandarin fish, eagle rays, blacktip reef sharks
mantas, whale sharks, blue ringed octopus
Pick your favourite dive site