The sea gives us another world. Explore this fascinating universe with Divine Divers.
FUN DIVING THE GILI ISLANDS
The Gili Islands are not only a vision of paradise but also one of the top diving destinations in Indonesia. Situated in the famous coral triangle, with more than 20 dive sites and a plenty of diverse underwater environments. Located off the northwest coast of Lombok Gili Air, Gili Meno and Gili Trawangan are surely a diver's heaven where undoubtedly turtles are starring the show. Both green and hawksbill turtles are abundant.
The dive sites of the Gili Islands have a great marine diversity with sought after critters like ornate ghost pipe fish, frogfish and nudibranchs. But also reef sharks are frequently spotted as well as octopus along with tuna, barracuda, trevally and occasional passing eagle rays. Among the hunters you will find colourful tropical reef dwellers such as sweetlips, pufferfish, angelfish, batfish, butterflyfish, lionfish, scorpionfish and schooling snappers, fusiliers and damsels. Oh and did we mention the turtles?
Overall, the Gilis offer great diving all year round with the dry season running from May to October and the rainy season from November to April, but it doesn't really rain that much and the diving isn't affected by the rain.
DEGREES AVERAGE WATER TEMPERATURE
MINUTES AVERAGE BOAT RIDE
METERS MINIMUM VISIBILITY
FUN DIVE THE GILIS WITH DIVINE
DAILY DIVE TRIPS WITH DIVINE DIVERS
Divine Divers is located on central Gili Meno. This gives us easy access to all of the Gili dive sites within a 10 minutes boat ride, with many of the most famous sites right in front of our doorstep. Our daily fun dive trips are open for all levels of certified divers. They are guided underwater exploration tours and you will get to see the best of the dive sites with an experienced divemaster. Due to prevailing currents, most Gili dive sites are best seen on a drift dive from a boat.
Dive sites are chosen daily for the next day. Our boat leave three times a day at 08:00, 11:00 and 14:00. Throughout the week, we also schedule night dives. By leaving half an hour earlier than everybody else, we ensure that we have the beautiful dive sites to ourselves because we will resurface once the other dive boats turn up. Our boats are traditional Indonesian outrigger boats with a spacious sundeck. After your dive, you can dry off, sunbathe and enjoy the spectacular view.
Once back in the dive center, you will log your dive together with your group and your dive guide to not forget the amazing fish you have seen.
If you haven't dived in a while, we recommend you to start your diving holiday with a quick refresher. Oh, and we of course also offer night dives. They are scheduled regularly throughout the week.
all certified divers, 1 guided dive including equipment and boat ride.
Underwater camera rental
Nitrox
Professional underwater shooting
Private guide
A diving day does not necessarily end when the sun goes down. On a night dive you'll have the chance to meet the incredible marine life that only comes out when it is dark. We offer regular night dives around the Gili Islands. Just keep an eye on the sign for the dive sites of the day or simply let us know if you'd like to go night diving. We have Meno Wall, one of the best Gili night dive spots in front of our beach and can jump into the water at any given time.
Night diving might seem scary at first but it is one of those things that you'll most likely end up loving. Night dives are open for all certified divers. If you have never done a night dive before we recommend you to do an Adventure Night Dive. For this dive, you will have an instructor by your side who will teach you the knowledge and techniques for night diving. If you are a seasoned (night) diver you can simply join a group or even try out fluo night diving using UV light.
NIGHT DIVING ON GILI MENO
NIGHT DIVING GILI ISLANDS
all certified divers, 1 guided night dive including equipment, torch and boat ride.
IDR

730.000 –

IDR

850.000
Fluorescence night diving is also referred to as UV diving,  blue light diving, fluo diving or glow diving. Divers are equipped with a yellow mask filter and a special light with which they conduct the dive. Some people say that fluo diving is like being in the movie "Avatar". Others describe the experience as diving in a psychedelic rave party. We could bore you know with a chemical explanation but bottom line is: Fluo night diving is a whole new experience. The underwater world seems to glow but with colors unlike those seen by the naked eye in daylight or at night with a normal dive torch. Marine life that appears dull and gray during the day might look like a riot of colors at night. A pale piece of coral is now fire red and a glowing beauty of form and color. Convinced? Then join us for a once in a lifetime experience.
FLUO NIGHT DIVING ON GILI MENO
NIGHT DIVING GILI ISLANDS
all certified divers with night diving experience, 1 guided blue light night dive including equipment, UV torch and boat ride.
IDR

730.000 –

IDR

850.000
Once all of a sudden, a year has passed and even though you've planned the entire time to go diving, it just didn't happen. Knowledge can get rusty and if you haven't dived in a while, we strongly recommend to reactivate your skills with a refresher program. A quick review of the dive theory, followed by some quality time in our pool and you are ready again for the open ocean. You will find yourself more relaxed and comfortable to back roll into the sea on the subsequent fun dive. In addition, your air consumption will be better after the pool session and you will enjoy the dive a lot more than without.  The scuba skills update is available for all certified divers. The price for the refresher includes all 3 parts: theory, pool and open water dive.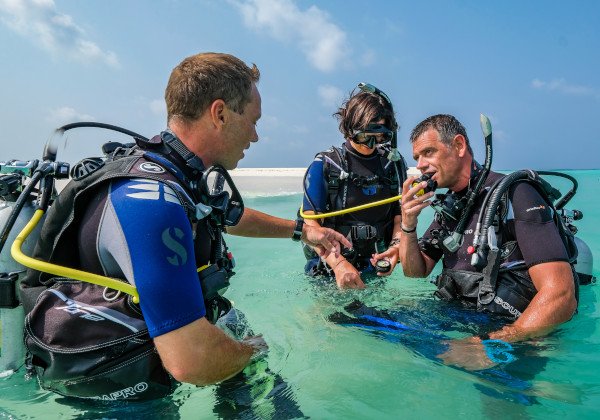 all certified divers, 1/2 day, 1 pool dive, 1 ocean dive
FAQ – FOR THINGS LEFT UNANSWERED